Hello, how are all of you on this fine fall morning? I am FANTASTIC...the slightly cooler weather just makes me GIDDY...I feel so ENERGIZED...How about you?...While I am not looking forward to WINTER, I do ENJOY fall soooo very much...pumpkins and mums are popping up everywhere and soon the trees will be putting on their show of glorious fall color..in the meantime, I have been busy adding little touches of fall splendor to my home...a dash of fall HERE...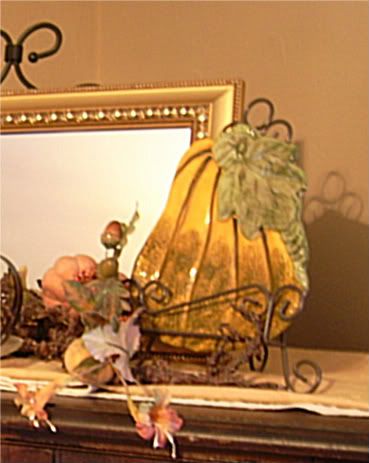 ...A dash of fall THERE...
...here a little and there a little...
These are simple vignettes I put together using mostly the things I already had...I did buy a few leafy floral picks from Dollar Tree and the faux pheasant feather pick came from Micheals clearance bin for .99 cents...I love it!
I got the wild animal runner and rooster lamp a few months back on clearance at Dollar General...they were half off. I paid $2.50 for the runner and $3.50 for the lamp...the rusty little urn was from a thrift shop several months back for .25 cents...I wasn't sure what I would use it for but I just had to have it and now I think it goes perfect with this fall vignette...
I got the large acorn tart burner last year from Wal-Mart for $15.00...it's made by BH&G and I love it....much cheaper than Scentsy! (less than half price)...Wal-Mart also carries BH&G scents for just $2.00 a package (also less than half price of Scentsy)...they have a lot of great scents to choose from...right now I am burning a new seasonal fragrance...CRANBERRY CHUTNEY...It smells sooooo wonderful...
I will put in a plug for Scentsy also...I won the new October fragrance at a party last week and it is TO.DIE.FOR...It's called "Autumn Stroll" it's a very subtle, very romantic perfumed spice fragrance...I have been burning it at work...I love it too!!!
...I have more fall FLUFFING to do...I have yet to finish FALL-I-TIZING the living room and I am still working on the mantle...BUT I will be back soon to share those with you...until then, ENJOY this beautiful fall day and treat yourself to something fall-i-cious like "Cranberry Chutney" OR "Autumn Stroll"...you deserve it...
Join me at these wonderful linky parties...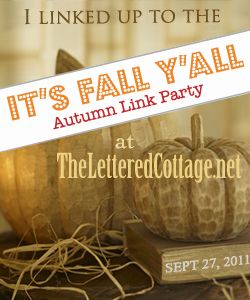 TableTop Tuesday @
A Stroll Thru Life
Newbie Party @
Debbiedoos
Fall in Love @
Decor to Adore
Wow us Wednesday @
Savvy Southern Style
Open House Thursday @
No Minimalist Here
Show & Tell Friday @
My Romantic Home
Thrifty Things Friday @
The Thrifty Groove