Well, I'm sure I've missed the "It's Fall Y'all" Mantle linky party by now...with working full time, extracurricular school activities with the kiddos this time of year, and the usual weekly line up of chores, places to go and people to see, I am an extremely busy person...but I FINALLY got my mantle decorated for fall...WHEW...it has been a long time coming...but I can't be TOO hard on myself as it is only the BEGINNING of October...so without further ado...
FALL MANTLE 2011...
Remember the cute fall picture I thrifted for $2.00 a few weeks ago?...I off-centered it just slightly and used it as the focal point in this fall mantle...however, this piece is a little too RUSTIC for the more REFINED look I was wanting here, sooo....I went DIGGING through my closet and pulled out my delicate leopard print neck scarf (they're not just for using as clothing accessories ya know) which not only brought in some of the leopard print element I used in the
DINING ROOM'S
fall decor, but also added the element of sophistocation I was looking for here...
...well, at least that's my opinion...who would've ever thought of using leopard print as a fall fashion statement?...You guessed it...only ME with my quirky little mind, lol...
...To bring out some of the ORANGES from the print, I used a wicker pumpkin I found while out thrifting this past week and filled it with a REAL leaf covered branch I snatched right out of the woods...and to bring out some of the farmlike qualities...I tucked in my feathered ROO who had been dying to be released from packing box jail...he had been there since our move last year...poor little feller...but he's HAPPY now...
...to the right I stacked a few old books and topped them with a COPPER lantern I found while on vacation this past summer...I have been dying to find just the right place to use it...I think it looks FABULOUS here on my fall mantle...I tucked in a mini pumpkin, a few fallen leaves, some faux moss covered rocks and some grapevine to complete the look...
...for the HEARTH, I used an assortment of candle sticks featuring candles embellished with fall themed and leopard print ribbons...I threw in some grapevine and a couple adorable metal pumpkin lanterns I found while out thrifting a few weeks ago...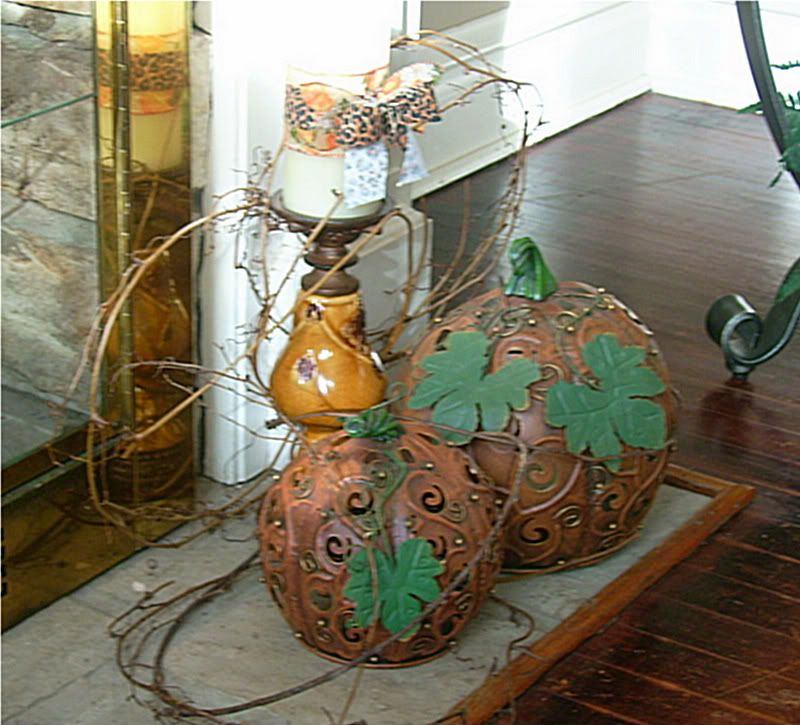 ...and VIOLA'...my complete fall mantlescape...
...Well, I know I have gone on and on about this fall mantle of mine, going over every little detail, but I am just SOOOO excited...wanna know why?...Well, I'll tell ya anyway...it's because this is my FIRST EVER FALL MANTLE...yes that's right...until we purchased this house one year ago, I had never owned a fireplace, and I am just TICKLED to finally have a mantle to decorate for the seasons....
I'm linking up to some fabulous parties this week....swing on over a take a look...you'll be GLAD you did!!!
Tabletop Tuesday @
A Stroll Thru Life
Nifty Thrifty Tuesday @
Coastal Charm
Wow Us Wednesday @
Savvy Southern Style
Open House Thursday @ No Minimalist Here
Thrifty Things Friday @ The Thrifty Groove