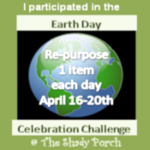 Hey all. I was invited by D @ The Shady Porch to participate in a neat Earth Day party this week...You are invited to participate and link up too. Just hop on over to
The Shady Porch
for a look. She has dedicated this week to digging through her trash can (that's garbage people!) to find things that can be reused and repurposed. Being the dumpster diver that I am, I think that's a great idea.
I was raised in a generation where people saved EV.ER.EEE.THING. To throw away an empty margarine bowl (with or without the lid)...
was a mortal sin. I mean they make great cereal bowls and left over storage containers, for Pete's sake. However, todays generation is very wasteful. Everything is DISPOSABLE...but not cheap...If you know what I mean.
I like D's idea of putting to good use some of those throw away items so much that I have decided to join her little Earth Day linky party this week...
I wanted to propagate some of my double knock out roses. I only have two plants but I need 6 more. Those six plants would cost me some serious chunk of change as each plant is about $25 each and I just don't have that kind of cash right now.
I read online that I could take STARTS off my existing plants to get the other plants I need, YAY...but I would need some things to get started. Things I didn't have on hand like...pots and cloches. Yes, real cloches are for gardening...bet you didn't know that....but as you DO know...THEY ARE EXPENSIVE. Anywhoooo, to make a long story short and in the spirit of being thrifty...I dug through the trash and found exactly what I needed to "START" my roses without the expense of buying pots and such...
I used these...
A plastic two liter soda bottle and a styrofoam cup. Now I have to admit that I have repurposed empty pop bottles in the past...you can see how in my little post
HERE
...
Using a sharp knife, cut the bottom fourth off the bottle, and the top half off of the cup.
Try to get even cuts. The styrofoam didn't want to cut right...oh, well it's still usable.
Notice my little helper...isn't he cute?
Fill the bottom of the bottle and the cup with potting soil...
Get yourself a "start" off your existing plant...
Dip the end of your "start" in honey or peanut butter. I used peanut butter which is what I had on hand. This acts like a root stimulator and keeps the root end of the "start" moist and fed.
Stick the dipped end of your "start" down deep into the soil...about two inches or so...then water
Take the top of the bottle and using scissors or sharp knife, make slits along the bottom edge so that it will fit OVER the "start" and bottom of bottle overlapping slightly to give it a tight seal, thus making a terrarium.
I probably didn't need the styrofoam cup here as I had more than one empty soda bottle on hand, it was simply for purposes of showing how ANY empty container can be used as a "POT" for starting plants instead of purchasing something specifically for this purpose.
Next, place them on or near a window sill where they will get ample light...
...and that's it...well... there is one more thing...
...we WAIT...3-6 weeks for them to form a good root and be ready for transplanting into my garden.
So there you have my Earth Day project...Trash to Terrarium. Thanks D...It's been fun!
Linking up to
The Shady Porch
,
A Stroll Thru Life
,
Coastal Charm
,