I was thumbing through the new Pottery Barn catalog a few weeks ago and came across a dining room I would LOVE to copy. I know, who wouldn't like to copy a room from Pottery Barn? Anyway, I just absolutely fell in love with one of their American Classic dining rooms and got to thinking about how I could possibly copy it. My dining room is fairly similar to theirs...similar color, similar windows...plus I have a cabinet similar to the one they show too, and guess what?...
I now have a RUG that is similar to theirs as well. I had been in the market for a new rug for the dining room for quite a while. I wanted something a little larger than what I had. My old one was a 5x7 and was just not quite large enough to accommodate the table and chairs.
I had looked everywhere but had not come across anything I liked. Of course except for the one in my favorite room in the PB catalog...
PB Chantal Chenille Tapestry Rug
Then last week we had to take a trip into St. Louis and while there the hubs suggested we stop at Garden Ridge. I love Garden Ridge, don't you? They have a ton of cute stuff!! Anyway, we stopped in the rug department and I found a rug I liked and it was the perfect size... Better yet, it was the perfect price...only $99 for an 8x10 rug. Can't beat that anywhere! So it hopped in the cart and came home with us.
You may have noticed I got a "new" Duncan Phyfe style table and chairs also, but I will tell you about that later....Anyway, on the way home from GR I got to thinking about that Pottery Barn dining room I love and I said to the hubs, "You know I really didn't think about it when we were shopping but that rug we just bought, if I recall right, is very similar to the one from PB that I like so much". So when I got home I got the catalog out to have a look. Yep, sure enough they are similar...
What do you think...similar? I think so...however, the price isn't similar. Theirs $399 for 8x10 and mine $99...so I figure I got a GREAT deal. I got a rug similar to the one in my favorite PB dining room and I spent WAY less. Can't beat that! So, what do you think, do you like my new rug? Do you think it is similar to the PB rug?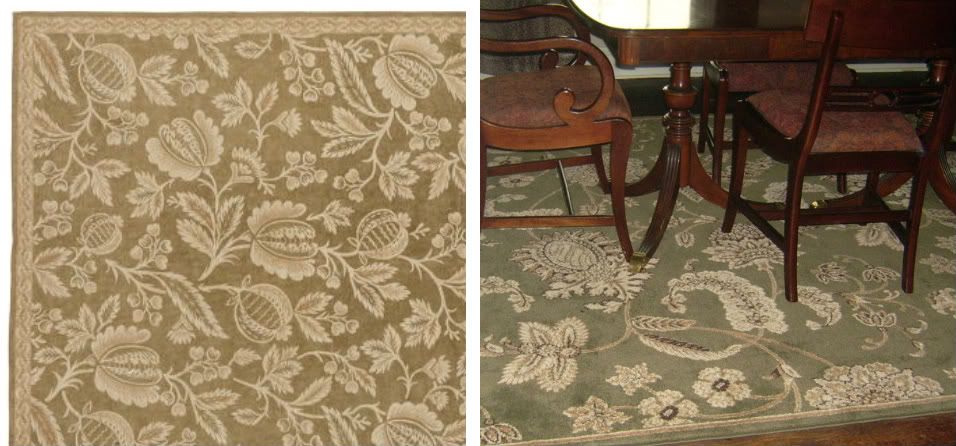 Now I am REALLY psyched...I am on my way to copying my fav PB dining room...YAY!!
My Favorite PB Dining Room
I hope I can pull it off.
By the way, if YOU are in the market for a new rug, check out Garden Ridge. They have a ton of nice rugs to choose from and VERY LOW prices. They have a LOT of other great stuff too.
A little side note, TOTALLY unrelated topic...we ate at Culvers after shopping at GR...All I can say is WOW, they have GOOD food. Have you ever ate at Culvers? I had never ate at a Culvers before and for a fast food place, let me just say...it's THE BOMB. I had a Reuben and fries. YUMMMMMMY! So if you ever get the chance to eat at a Culvers, do. I promise you will not be disappointed.

Sharing at:
My Uncommon Slice of Suburbia
,
Savvy Southern Style
,
Coastal Charm
,
The Thrifty Groove
,
Chatty Chics
,
No Minimalist Here
,
Mrs. Hines Class
,
The Shady Porch
, and
From My Front Porch To Yours
.