HAPPY FALL TO Y'ALL!!
How's it goin? Did you think I forgot that fall has arrived? After all I haven't shared any of my fall decorations yet. Truly, I did get a late start at my fall decorating this year because of all the painting going on around here, but I have finally managed to get my fall buffet put together along with a few other things.
First let's take a look at last year's buffet....
Very simple and I loved it but there were no treats. What's that, a buffet should have treats, right? Well, this year WE.HAVE.TREATS!!!...
Yummy.....CANDY CORN with PEANUTS, CHOCOLATE COVERED PRETZELS and...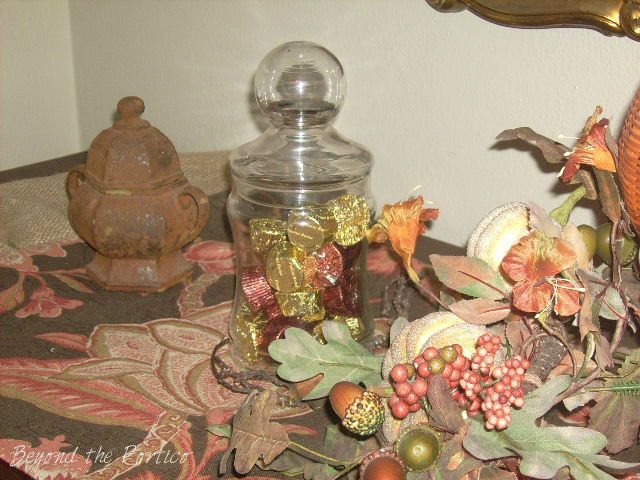 Reeses PEANUT BUTTER CUPS...of course everything is tastier when it's served up in glass apothecary jars!!
What do you think of my new homemade table runner? Perfect fall colors don't you think?
Fall has happened over on my vintage china closet too...
HAY RIDES, PUMPKIN PATCH, CORN MAZE...I love this cute sign I found a few years back at a consignment shop. I normally hang it out on one of my trees in the yard along with some other outdoor decorations, but she's starting to show signs of wear so I decided to keep her indoors for the season.
I plunked down a few metal pumpkins and tucked in some fall leaves by her for a super cute fall display.
Now onto the mantle....which is not exactly finished yet...It needs some pumpkins. I am still looking for just the right ones.
This year's mantle sports my new DIY Sunburst Mirror. This mirror was made from plain white cardstock and was very simple and inexpensive to make. You can find out how I did it
HERE
...
The leaf garland is real. Some of the leafy branches came from my next door neighbors maple tree and the others came from the trees in my yard. The cost...FREE!! Sadly though, they will not last long so I will be replacing them with faux garland soon.
The tall branches flanking either side of the mantel are from the shrubs and bushes in my yard. Once again those were FREE. A very simple yet elegant mantle. I love it!!!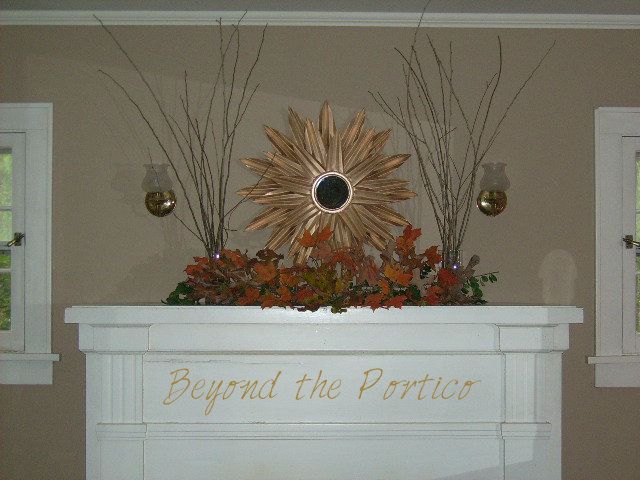 Well there you have it...Fall 2012 at Beyond the Portico. You can check out last year's fall decor
HERE
and
HERE
.

Sharing at:
Savvy Southern Style
2805
Imparting Grace
From My Front Porch To Yours
No Minimalist Here
At the Picket Fence
A Stroll Thru Life
My Uncommon Slice of Suburbia
Coastal Charm